Congratulations to the STEaM Team and #DimmingDyslexia for winning the BT Young Pioneer Award 2020.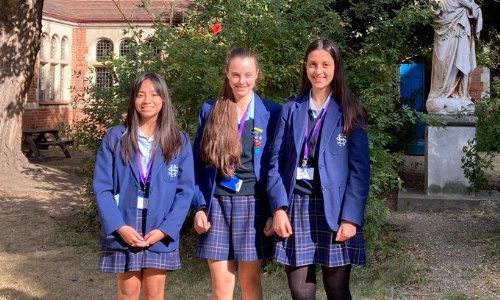 "The calibre of entries this year has been outstanding, with a record breaking number of individuals and teams submitting their ideas. We are absolutely thrilled to announce Dimming Dyslexia as this year's winner's as we recognise the positive impact this could have to help 1.3 million people in education. With the support of BT, we hope to help the Dimming Dyslexia team reach their goal in their ambition in supporting more people with dyslexia. It's so inspiring to see how young people are playing such a key role in helping to tackle societal challenges, working to improve the lives of so many." Professor Kerensa Jennings, BT Group Director of Digital Impact
The following extract is taken directly from BT's website and relates to 24 September 2020.
Today, BT has announced that an all-female team of teenagers from The Sacred Heart High School in London, have won the BT Young Pioneer Award 2020, part of the AbilityNet Tech4Good Awards.
Dorothy (14), Sonia (14) and Justine (14) created the 'Dimming Dyslexia' app to analyse online text and other educational resources, translating them into formats that are easier to understand for those with dyslexia. The app can present written text into videos, cartoons, alter font size and colours on the page, presenting more dyslexic-friendly formats.
This project has been inspired by the team witnessing how some pupils were perhaps struggling with some basic skills, such as reading and writing. Consequently, the team got together to find a way to help others improve their everyday skills, skills the team admit sometimes they take for granted.
Dimming Dyslexia's innovative design and team ambition makes it a potentially game changing tool for the 1.3 million people in education with dyslexia[1]. As winners of this year's BT Young Pioneer award, they will receive the support of BT experts who will work with the team to take this from prototype to a fully working app. In addition, they will receive £10,000 to fund the project so they can take it to the next level.
BT is also delighted to announce BT Young Pioneer Award finalist, Freddie from Usk, South Wales, has received not one but two awards for his 'Fall Alert' device: Highly Commended by BT and AbilityNet's The People's Choice Award.
This is the 10th year BT has been lead sponsor for the Tech4Good Awards, and it's been the most extraordinary, with a record breaking number of 400 entries. Young people from across the UK have proven that even in the face of a global pandemic, they are motivated to make a difference, using tech as a force for good to present their ideas and solutions to help make the world a better place.
Last year's winner, Mihika Sharma, who invented the 'Smart Stick', has been working with BT and the RNIB (Royal National Institute of Blind People) for the past year to carry out market research within the visual impairment community. This research is helping support her plans to bring the 'Smart Stick' to market, helping those with visual impairments.
With the support of BT, young people like Mihika are working to bring their ideas and inventions to life.
Professor Kerensa Jennings, BT Group Director of Digital Impact, said: "The calibre of entries this year has been outstanding, with a record breaking number of individuals and teams submitting their ideas. We are absolutely thrilled to announce Dimming Dyslexia as this year's winner's' as we recognise the positive impact this could have to help 1.3 million people in education. With the support of BT, we hope to help the Dimming Dyslexia team reach their goal in their ambition in supporting more people with dyslexia."
"It's so inspiring to see how young people are playing such a key role in helping to tackle societal challenges, working to improve the lives of so many."
Dorothy from The Sacred Heart High School's STEaM TEAM said: "I can't believe we won! We've been working really hard to create a prototype for 'Dimming Dyslexia', so we're very excited to start working with BT to take the development of the app to the next level. Our ambition is to get 'Dimming Dyslexia', onto the apps stores so that we can help as many people with dyslexia as possible."
Justine from The Sacred Heart High School's STEaM TEAM said: "The fact that we won still feels surreal! I'm glad that our team was able to express our desire to support those in need, and that our hard work over the past few months has paid off. I'm thrilled to see how our product will work in the future."
Sonia from The Sacred Heart High School's STEaM TEAM said: "We are thrilled to have won the award and I look forward to working with BT to make our app a reality."
Rotna Roy, STEaM Lead, Sacred Heart High School, said: "Dorothy, Sonia and Justine deserve a huge congratulations for working so hard behind the scenes. If it wasn't for their resilience, determination, growth mindset and enthusiasm I don't think this project would be as successful as it is now. The time and effort the girls have dedicated to the 'Dimming Dyslexia' project has really shown their passion for STEM and has left me very impressed and proud."
Freddie Howells, age fourteen, Fall Alert, said: "I think the Tech4Good awards are hugely inspiring, which is why I entered the BT Young Pioneer award for a second year. I would have loved to have won this year, but I think Dimming Dyslexia are really worthy winners. I'm really happy to have been awarded the Highly Commended title. This project means a lot to me because it was inspired by my great Aunt Pat who has dementia, and I wanted to help her and others with such a life changing illness."