2021 Year 7 Transition to Secondary School
We are very much looking forward to welcoming you to Sacred Heart High School.
Starting a new school is an exciting time, and we are looking forward to accompanying you as you grow and develop throughout the years ahead. You will have the very best start possible with us.
The resources below have been chosen to help with your transition to our school. All pupils will receive a copy of You Are Awesome by Matthew Syed and this will form the bridge between Year 6 and starting Year 7.
Be Awesome, Go Big is a package to help Year 6 students transition into Year 7. It can be used by students and parents at home or in school with teachers in class. It is designed to be motivational, helpful and reassuring and to help young people feel valued, loved, encouraged and equipped for the journey ahead.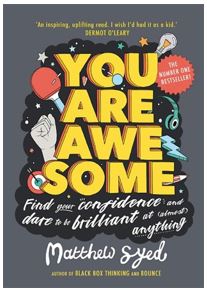 We would ask that you take some time to explore the book - it isn't the kind of book you might read all at once. It is yours to keep.
This project has been specially designed to support students in Year 6 as they prepare to start secondary school. Each PowerPoint has a specific theme and includes a video and tasks to help children to explore issues and develop their confidence. There is a workbook accompanying the series of PowerPoints which explores these themes further. Although Year 6 pupils can work on the tasks by themselves, it would be better for them to work through them with an adult. There is also a series of help sheets for adults to support parents and carers in what to expect from the move to secondary education. It would be a good idea if one session was completed each week between now and September. You do not have to complete them all - we are well aware that there are many other pressures on your time - we are providing this as a resource. We would ask that you bring the book with you in September so that we can use this in class.
Session 2: Unlocking your mind
Session 7: What is normal anyway
Session 8: Friendships and fallouts
(Having trouble viewing the embedded videos? Find all the links here)
Be Awesome Go Big Workbook (printable)
Be Awesome Go Big Workbook (editable)
Get Ready to Go Big: Have a go at some challenges!